WHO WE ARE
COMMITTED TO A FINE DINING EXPERIENCE UNLIKE ANY OTHER
When Jeff Ruby opened his first upscale steakhouse in 1981, he had a clear vision to create an establishment the likes of which nobody had seen before. He envisioned a fine dining destination where guests would enjoy an experience unlike any other—the very best food, service, entertainment, and attention to detail. His place would be an over-the-top experience that transported people to a different time and place, where anything was possible and lifelong memories were made.

This vision provided a strong foundation for our growing organization then, and continues to drive our commitment to excellence and innovation today. More than four decades later, Jeff Ruby Culinary Entertainment is an independent, family-owned and operated restaurant group. A nationally acclaimed fine dining icon with seven luxury steakhouses across Ohio, Kentucky, and Tennessee.
THE JEFF RUBY EXPERIENCE
The commitment we make to our guests is to deliver a one-of-a-kind, inspiring, and theatrical fine dining performance each and every time you dine with us. We combine this award-winning approach with a passionate attention to detail and impeccable service to provide a show unlike any other. We call it The Jeff Ruby Experience.
From the moment you walk through our doors to the moment you leave, we indulge your senses and warm your heart like no one else can. You'll taste it in the quality of our award-winning U.S.D.A Prime steaks, hand-selected from ranches where we know the cattle, how they are treated, and how their lineage ties them to the most highly-rated, genetically superior stock in the world. You'll feel it in the energy of a spectacular night on the town with premier live entertainment and the upscale energy of the room. You'll see it in the elegant grandeur of our restaurants, from the antique chandeliers and 1940's era Art Deco-inspired décor, to the original artwork, local flair, rare memorabilia, and unique architectural details featured throughout. You may even catch a glimpse of your favorite celebrity admiring the beauty. And lastly, you'll appreciate it in the personalized, warm, and unparalleled service you receive from our highly trained and tenured staff.
When you dine with us, you are our guest and as such, truly an extended family member. And, while each of our restaurants has a unique background and story to tell, there is a common thread that runs through everything we do — a commitment to excellence that is The Jeff Ruby Experience.
"RESTAURANTS CREATE MEMORIES. THAT IS WHAT WE REALLY PROVIDE PEOPLE. THAT IS WHAT THEY LEAVE WITH."
ABOUT JEFF RUBY
HUMBLE BEGINNINGS
Jeff Ruby is the visionary behind the luxurious grandeur, impeccable service, legendary steaks, and the passion for showmanship in everything we do. Yet, Jeff came from humble and challenging beginnings. Growing up on the Jersey Shore, Jeff took control of his life early on by running away from a fatherless and problematic home at the young age of 15. From that point, and under the mentorship of a high school coach, Jeff essentially raised himself and forged his own destiny. Setting his sights high, he attended Cornell University on a football scholarship, becoming a starting linebacker for the Big Red. Upon graduation, Jeff entered the hospitality business and earned notoriety for transforming an empty floor in a Cincinnati Holiday Inn into a place "see and be seen." He captured the attention of local celebrities like Pete Rose, Johnny Bench, and other celebrities who eventually became investors and partners in his next big move.
WHERE IT ALL BEGAN
In 1981, Jeff's passion for innovation, excellence, and over-the-top experiences drove him to take a leap of faith when he placed the bet of a lifetime in his chosen hometown of Cincinnati and opened his first restaurant, The Precinct. This new venture was born in a building with quite a history. A Hannaford structure built in 1906, it served as the old Cincinnati Police Patrol House No. 6, and then as a string of unsuccessful restaurants until Jeff Ruby purchased it. He brought to this new home an entirely new and extraordinary dining experience. Word spread fast as guests fell in love with its warmth and luxury. The Precinct became one of Cincinnati's most beloved dining establishments and is now the city's longest-running upscale restaurant. The Precinct's success gave way to an entire family of steakhouses and today Jeff Ruby is one of the most recognizable and iconic restauranteurs in the industry, serving everyone from prime ministers to Presidents, from athletes to politicians, from celebrities of all nationalities to countless steak lovers enjoying and celebrating life.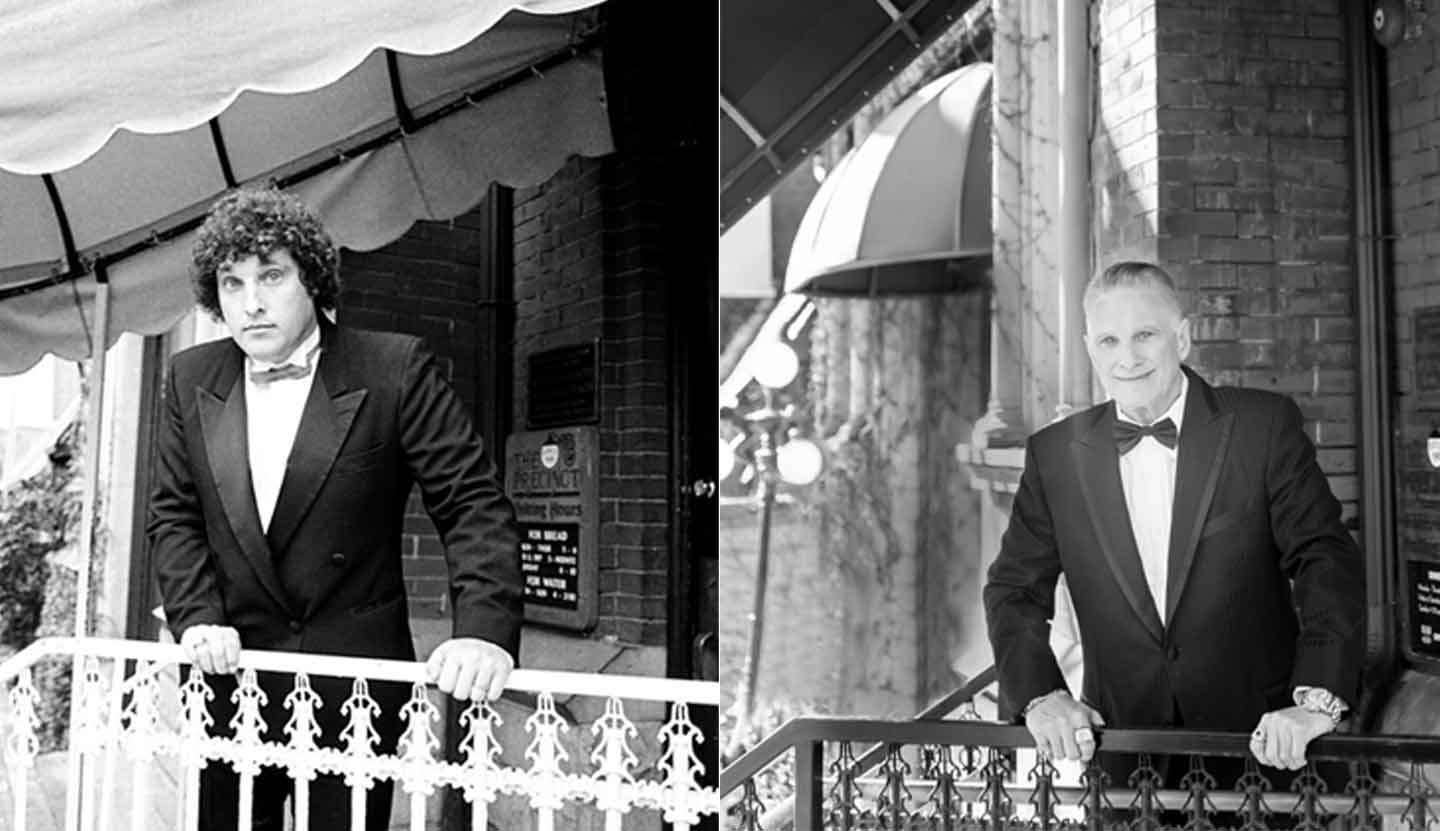 A FAMILY AFFAIR
Today, running the restaurant group and expanding the brand is very much a family affair for the Rubys. Growing up at the knee of a prolific restauranteur, Ruby's three children all learned the intricacies of running a business from the ground up, each working nearly every position at the steakhouses from an early age. Today, daughter Britney Ruby Miller leads the organization as CEO, and sons Brandon and Dillon fill roles as Executive Vice Presidents. Together, Jeff Ruby Culinary Entertainment owns seven restaurants across Ohio, Kentucky, and Tennessee. Most important to each of them are the 801 employees that are loved as extended family members.
ACHIEVEMENTS AND LEGACY
Over a storied career, Jeff Ruby has well-earned his status as one of America's most renowned restaurateurs. His steakhouses are consistently ranked among the best in the nation by Travel + Leisure, Food Network, USAToday, Wine Spectator, and other national media icons. And, while his business successes are what drove his public notoriety, it is perhaps his private philanthropic activity on which his legacy will be built.
A prolific giver and doer, Ruby frequently spearheads efforts to raise funds, create awareness, and help those affected by challenging circumstances and injustice. Most notably, he has sought out and become a surrogate father to countless teenage, fatherless boys needing guidance and has become a principled influencer in their lives. In 2018, the Ruby family formalized these efforts with the launch of The Jeff Ruby Foundation, initially tasked with addressing Child Poverty, Hunger, and particularly the broken Foster Care System in the area.
WHAT TOMORROW BRINGS
Jeff Ruby Culinary Entertainment is positioned for a future as bright as its past. In her tenure at the Corporate Office, Britney Ruby Miller has driven dramatic growth across every conventional business metric, as well as helped increase the company's visibility in the community, and played key industry-wide leadership roles in helping restaurants navigate the recent pandemic. Alongside her brothers, they have assembled a best-in-class leadership team and promote initiatives to build upon and enhance the values and vision of their father.
Contact Us
Jeff Ruby Culinary Entertainment
700 Walnut Street, Suite 200
Cincinnati, OH 45202
OFFICE HOURS: M-F 9:00 AM – 5:00 PM
ACCOUNTING HOURS: M-F 8:00 AM – 4:00 PM